We all understand the importance of proper care and maintenance of our vehicles. Without routine maintenance, our vehicles can present with any number of performance problems as well as a minimized lifespan. Here at Auto Clinic of Franklin, our team of highly skilled and knowledgeable automotive technicians understands full well the importance of proper vehicle maintenance and repairs and that includes tire repairs as well. Our team stands ready to meet your every need.
IMPORTANT INSIGHT ON TIRE REPAIR
There are a number of repairs that can be performed on tires and our team of experts wants to offer you some important insight on tire repairs.
HOLES, PUNTURES AND TEARS
A flat tire is something that can be easily fixed and certainly is not the end of the world for your tires. Using a simple tire repair kit allows you to fix a small puncture and inflate your tire just enough to allow you to get to an auto repair and service shop. The steps to temporarily repair your damaged vehicle tire start with locating the actual hole or tear.
Begin by removing your wheel and performing an inspection of the tire looking for any signs of debris of any kind that could have caused the damage. The majority of tire tears and holes are typically caused by nails or pieces of metal and debris on the roadway. Deflate the rubber so you can remove it from the tire. Next, you want to locate the spot that has the hole so you can place the patch on the inside surface. You will need a patch kit to perform this task. Be sure to clean the surface and buff away any imperfections.
You can then take the tire patch and completely cover the identified hole or tear and create a firm seal with the chemical seal included in your kit. You should use a repair tool or even a tire retread to ensure that the inside of the tire is firmly sealed. If, however, the rip or tear is too big, then the patch in your kit may not properly seal it, but it may seal it enough to allow you to bring it to an automotive shop to confirm the integrity of the tire and its usage. Keep in mind that a patched tire will not last forever, which means you will eventually have to replace your tire or tires.
TIRE REPLACEMENT
A patched tire is just a temporary solution for an air leak that allows you to be able to safely drive your vehicle to a nearby auto repair shop. Following this simple temporary fix, you will have to invest in a new tire or even a set of tires. Here at Auto Clinic of Franklin we provide many of the major brands of tires along with a wide range of tire and wheel repairs and services. The brands of tires we provide include, but are not limited to, Uniroyal, Michelin, Bridgestone, Firestone, BF Goodrich and Good Year. Most of our tires come with warranties.
TRUST THE PROS AT AUTO CLINIC OF FRANKLIN
Here at Auto Clinic of Franklin our team of skilled auto technicians and specialists are committed to providing top of the line automotive products and services to all our clients. We offer affordable tires, alignment and rotation services, and all types of emergency repairs as well. For more information about our high-quality tire repairs we offer or to schedule any other automotive repair services you may need, be sure to reach out to one of our friendly technicians today. We look forward to serving you and to helping you keep your vehicle on the road all summer long!
When driving if you ever have a small collision, hit the edge of a pothole, hit a curb, or go over speed bumps too quickly you can easily cause the sidewalls of your tires to bulge or bubble. If you ever notice that your tires are not smooth and round, but rather you have a tire with a bubble or bulge, be sure to stop driving immediately. Here at Auto Clinic of Franklin we want to take some time to explain tread bulging or tire bubbles and their hazards to all our valued clients.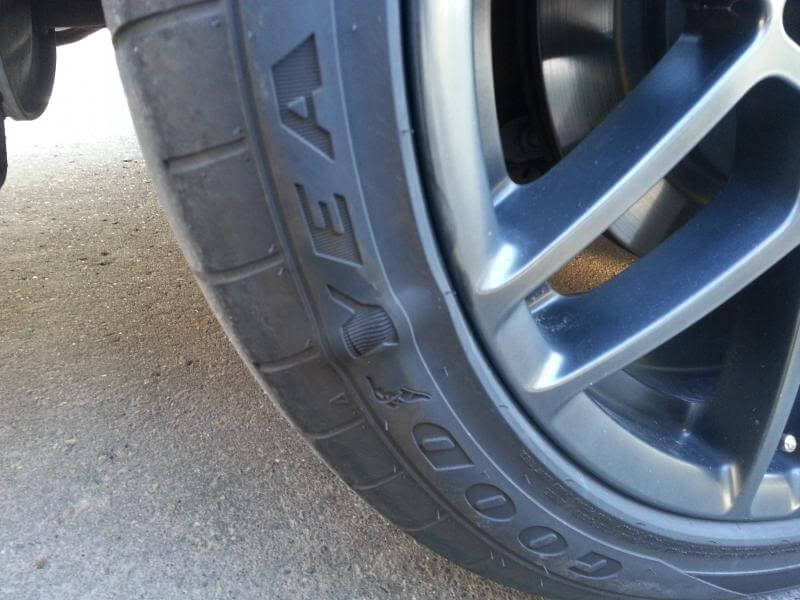 TIRE BUBBLES
A tire that has a bubble or a section of tread bulging is not safe to drive on. When the fabric of the inner tire bubbles, it can no longer provide the protection your tire needs from bursting. The most common area where bubbles occur is in the sidewall. However, they can also form in specific areas that have worn out thin rubber. Driving on a tire with a bubble is extremely dangerous and the odds of a blow out are very high. When you take note of a bubble, it is important to get the tire replaced quickly. The more moisture and air that seeps into the tire, the larger the bubble will become and the greater the danger is.
WAYS TO PREVENT TIRE BUBBLES
The team here at Auto Clinic of Franklin wants to share some simple tips on how to prevent tire bubbles from happening. Prevention is by far the best cure of all. Here are some simple steps you can take to prevent bubbles from forming.
Steer clear of potholes – Potholes are one of the prime sources for tire bubbles. Whenever possible, avoid hitting potholes by steering away from them safely.
Engage in careful driving – Make it a point not to drive over speed bumps quickly and to be extremely cautious when driving near to curbs and sidewalks and when parking.
Proper maintenance – Be sure to inspect your tires regularly and take note of any changes in pressure or in structure. Use a tire pressure gauge for checking proper tire pressure routinely.
Always keep in mind that damage that occurs as a result of a tire with a bubble cannot be repaired. The reason being that when a bubble is present, the structural integrity of the tire has been compromised. With that said, it is simply not safe to drive on the tire any longer since its internal structure has been damaged. Instead, suspend all driving and have the tire replaced immediately.
THE DEDICATED PROFESSIONALS YOU CAN TRUST
Here at Auto Clinic of Franklin our highly skilled and experienced team of dedicated auto technicians is steadfast in their commitment to provide all our valued clients the highest quality automotive parts and services this side of Franklin. Our technicians are on hand to answer all your questions and address any automotive concerns you may have.
With our high marketplace presence, our team of experts is committed to maintaining our high reputation and customer satisfaction rating. We strive to deliver services that are simply unmatched by any of our competitors and that includes any and all services for your vehicle tires.
Whether you are in the market for a new set of tires, need your tires rotated or have a tire with a bubble, rest assured we are the team for you. Simply bring your vehicle on down to our trusted facility and let our team of professionals take care of your every need. Summer is here and certainly we all do a whole lot more driving this time of year. With that said, we encourage all our clients to engage in routine inspection of your tires and be sure to have regular oil changes as well. Don't delay. Come on down to our friendly auto service center today!
When you set out to purchase new tires for your vehicle there are a few important factors to take into consideration.  Be sure to check out the tire specifications, as well as the performance ratings, and product warranties offered.  Once you have invested in your new tires, you want to take necessary steps to protect your investment and get the absolute most wear and performance out of your tires.  The team here at Auto Clinic of Franklin want to share some simple tire maintenance tips to keep those tires in tip top shape.
SIMPLE MUST DO'S FOR YOUR NEW TIRES
Adequate inflation – Be sure to check your tire inflation regularly. Proper inflation benefits the performance of your tires.  If tires are not properly inflated they can cause additional wear and strain on the individual tire thereby minimizing the lifespan and having an impact on the overall performance.
Proper tire rotation – The distribution of weight in your vehicle can vary from time to time and would, therefore, require regular tire rotations to prevent uneven wear on the tires and to promote better performance and a better ride. Typically, as a rule of thumb, you should have your tires rotated at your routine oil change service.
Tire balance – It is important to keep your tires balanced properly to ensure a smoother ride and minimize any additional wear on the tires. It is good practice to have your tires balanced when you have them rotated at your routine oil change service.
Practice good driving habits – How and where you drive your vehicle is a very important component that contributes to the performance of your tires. Excessive braking of your vehicle, acceleration, and constant stop and go traffic affect the way your new tires will wear.  Be sure to avoid potholes and debris in the road and travel over curbs or speed bumps with caution since each can cause damage to not only the tire but the side walls as well.
Proper care and maintenance – Be sure to keep your new tires clean and free of debris and keep dry, clean air in the tires at all times. Proper tire maintenance coupled with adequate maintenance of your tire rims, valves and hubcaps contribute to a long lifespan of your investment.
Give attention to parking – When your vehicle is parked on hot asphalt during the scorching hot summer months heat damage can occur to your tires. When parked on dirt roads or gravel surfaces in extreme cold, tire damage and warping can occur.  If your vehicle is parked for weeks or months at a time, your tires can be damaged and can actually break down.
Weight bearing – If you have to tow a trailer with your vehicle, be sure that the load being hauled is within the weight limits of your new tires and your vehicle. Adhering to the appropriate weight limits will prevent flat tires, damage or blow outs from occurring.
ROUTINE MAINTENANCE
To further ensure the health, safety and lifespan of your new tires, be sure to practice routine, tire maintenance, typically every 3000-5000 miles.  Be aware of any indicators of uneven wear on your tires, tread changes or other types of damage.  When you perform proper tire maintenance, they will generally last near to 5 years.
For more information about tire maintenance, contact the highly skilled and experienced automotive technicians here at Auto Clinic of Franklin today.  We look forward to serving you with only the highest quality automotive products, repairs and services this side of Franklin.  From our team here at Auto Clinic of Franklin to all our valued clients, we send along wishes for a safe, prosperous and Happy New Year!!
When your car dashboard lights all of a sudden come on, surely you are like nearly every other person, you panic wondering what has gone wrong.  Here at Auto Clinic of Franklin we thought we would provide you with three of the most common automotive problems that occur and the ideal solution for each. Read More
We all experience a wide range of climate changes with weather conditions in the summer months being warm and temperatures in the winter months being much colder.  Here in the south our summers are typically very hot and the humidity levels high, whereas in the northwest the summers are warm with very cool and comfortable morning and evening temperatures.  In the northern portion of the country the winters are extremely cold with mountains of snow, ice and below zero temperatures, while here in Tennessee and the south altogether the winters are quite mild.   Regardless of where you live, however, the outdoor temperatures impact tires, whether winter, spring, summer or fall. Read More
The force and friction experienced by your tires cause each tire on your vehicle to wear differently than the next.  Depending upon the type of vehicle you drive, whether its front wheel drive, rear wheel drive, 4wd, or even all-wheel drive, cornering and rolling forces will vary.   Because of the varied levels of wear on your tires and to solve the problem of uneven wear, a tire rotation is necessary.
A tire rotation requires the wheels and tires of your vehicle to be removed from your car and then replaced in different positions on the vehicle.  Here at Auto Clinic of Franklin when rotating your tires, we take time to rebalance both wheels and tires since they have had to be removed from your vehicle anyways.  When we perform a tire rotation coupled with a rebalancing we then even out the patterns of wear on each individual tire, which ultimately gives them longer functionality and a greater lifespan.
Tire Rotation Schedule
As a rule of thumb, you should have your tires rotated at every 5000-6000 miles. Since tires can be quite costly, failure to rotate the tires routinely can cause them to wear out and even ruin them well before their actual useful, functional life would typically expire.  If you fail to rotate your tires, you will see tread damage appear in a consistent wear pattern for a constant wheel position.  The wear may appear on both the inside and outside edge of the tire, on the sidewalls, or even in the form of a lumpy tread. Once the deep wear pattern occurs, you cannot repair it or perform a tire rotation at that time expecting to resolve the problem.
When tires are not rotated, they can become uneven and worn out which is quite dangerous.  Worn out tires can cause your vehicle to pull to one side or even wander and can significantly reduce the cornering ability of your vehicle especially when attempting to go around a curve.  The only solution to this problem caused by failure to perform routine tire rotations is the replacement of the tires and that can surely be quite expensive in contrast to a scheduled rotation of your tires and a balancing which can somewhat inexpensive.
Trust Our Professionals
Here at Auto Clinic of Franklin we are all about the happiness, satisfaction and safety of our clients.  With that said, our highly skilled and trained automotive techs take tremendous pride in all of our top of the line, affordable automotive repairs and services, and that includes tire rotations and balancing of tires for all types of vehicles.  We know full well the importance of shifting positions of your tires and the impact not doing so can have on your tires' performance and the safety of your vehicle and its passengers.
We provide the highest quality automotive products, services and repairs this side of Franklin and are steadfast in our commitment to ensure the overall satisfaction and safety of our valued clients.  Whether a routine oil change, tire rotation and balancing, a cooling system checkup, replacement of hoses or brake service and installations, our team of professionals are on hand and equipped to handle it all.
There is no repair or service need too big or too small for the highly skilled technicians here at Auto Clinic of Franklin.  Our automotive shop provides not only state of the art products and effective solutions to your automotive repair issues, but we provide them at prices that are competitive and affordable and in timelines that meet with the individual needs of all our valued clients.
For all your automotive repairs and services look to the professionals here at Auto Clinic of Franklin.  You'll be more than glad you did!
Now that you have invested in a new set of state of the art tires that offer you the highest performance ratings and warranties, it's time to take steps to protect your investment.  If you want to enjoy your tires, keep them in high performance shape and get the most out of them, the folks here at Auto Clinic of Franklin have some useful tips on how to properly maintain tires.
Important Tips to Maintain Tires
Ensure proper inflation – You should routinely check the inflation of your tires before you begin driving. Investing in a small pressure gauge can help you to accomplish this.  If your tires are not properly inflated additional strain and wear on your tires will occur which ultimately affects their performance and their lifespan.
Proper alignment – Proper alignment of tires contributes to the health and performance of your vehicles driveline components. When tires are properly aligned, they will wear evenly and performance will be heightened.  In addition, alignments help to maximize the design of your tire treads.
Proper rotation of tires – Since the weight distribution on any vehicle can vary, it is important to have your tires rotated when you have your typical oil change performed. This will prevent any uneven wear on the tires and will provide a much smoother ride.
Ensure tires are properly balanced – When tires are properly balanced you get a much smoother ride and wear on the tires is minimized. This task can be performed routinely whenever you have your tires rotated.
Proper maintenance and care – Be sure to keep your tires clean and free of all types of debris and keep proper air levels in the tires at all times. Be sure to also maintain and care for the hubcaps, rims and tire valves on your tires as well.  You should be sure to keep the valve caps on at all times and be sure that they are not broken or cracked since this can lead to leaks in the tires.
Pay attention to parking – During the summer months avoid parking your vehicle on the hot asphalt for extended periods of time since this can actually cause heat damage to the tires. In addition, in the colder months parking your vehicle on dirt roads and gravel can cause damage to the tires and even warping.
Adding weight to the vehicle – When you add weight to your vehicle this causes extra strain on your tires. With that said be sure anything that you are hauling behind your vehicle, whether a trailer or anything else, falls within the weight limits of your newly purchased tires so as to prevent any flats, blow outs or any other type of damage to your tires.
Be sure you keep up with your vehicle's oil changes and routine maintenance since this will help to maintain tires, add to their performance and extend their life expectancy as well.  It is typically a good idea to have scheduled maintenance checkups to your vehicle every 3000 to 5000 miles driven.  When driving, always be on the lookout for any damage to your tires, tread changes or other signs of uneven wear that can occur.  If you maintain your new investment properly, your tires can last as much as 5+ years.
To learn more about how to maintain tires and their proper care, or to schedule your routine maintenance or any other type of automotive repairs, reach out to the professionals here at Auto Clinic of Franklin today.  We look forward to serving you and to providing you with the highest quality automotive products, services and repairs this side of Franklin.
With winter in full swing here in Middle Tennessee and spring surely on the way, it's almost that time of the year for fun and adventure on the road to commence! If a spring excursion is on your list of things to do this year, it's important to take into consideration the vehicle's needs before you leave. After the cold has passed, we're all itching to get outdoors, out of the house, and some of us, on the road. As part  of your planning, we've put together a complete checklist from your trusted Franklin auto repair specialists at Auto Clinic of Franklin. We hope this helps you leave worrying about the condition of your vehicle to the experts at Auto Clinic of Franklin so you can enjoy your adventure without fail. Read More
Here at Auto Clinic of Franklin, it is certainly safe to say that we know a good deal about cars and tires alike. With that said, often times our clients will inquire as to whether or not it is necessary to invest in winter tires. When the temperatures outside begin to drop and winter makes its presence known, there are many benefits of having winter tires. Read More
Here at Auto Clinic of Franklin, our highly skilled and trained team of certified master mechanics are committed and dedicated to providing all our valued clients with the best all round car repair and services this side of Tennessee. From oil changes, repairs, battery replacements and tire rotations to name a few, our team is on hand to take care of your every automotive need.
Our experienced automotive repair techs are trained and equipped to handle any car problems you are experiencing. With that said, our tire rotation services give focus to changing the positioning of your vehicle's tires so as to minimize massive tread differentiation between them. Tires will always exhibit different levels of tread wear because each and every tire experiences a different level of stress during use. For this reason, it is important that car owners have their tires rotated in order to address the uneven tread wear that occurs.
By alternating your tires according to specific tire rotation patterns, you help distribute the tread wear more precisely and evenly and contribute to reduced uneven tread wear over time. Tire rotation patterns will, however, vary depending upon the type of vehicle you are driving and the make and type of tires that are installed on the vehicle. The experts here at Auto Clinic of Franklin may, during your tire rotation appointment, swap your front tires with one another, exchange the rear tires with one another, or even swap the front and rear tires with each other. Further, we give note to whether or not you have a full sized spare tire in your vehicle and will take into consideration appropriate tire rotation for your spare as well.
YOU CAN ALWAYS RELY UPON OUR FRIENDLY AND PROFESSIONAL TEAM
As we have already mentioned, it is important to rotate your tires to avoid uneven tread wear which typically occurs because the majority of vehicles do not distribute weight evenly amongst the front and rear tires. More often than not, the front tires of a vehicle tend to wear and deteriorate much quicker than the rear tires simply because of their location and because of the heavy weight of your car's engine. When you rotate your tires, you distribute the wear evenly, and will not have to replace or buy new tires quite as often. Tire rotation will not only extend the lifespan of your tires but our professional services, when performed routinely, can also help to improve the gas mileage of your car.
You may ask why? The answer is simple. Well maintained tires easily reduce rolling resistance which is what directly affects the overall performance of your vehicle as well as its gas mileage. With our top-rated tire rotation services, you can be sure we will help to prevent extensive tread differentiation between your tires, will promote much better car performance, and will also contribute to better gas mileage, which over time, saves you money.
Summer has come to an end and fall is now upon us which means that winter driving is right around the corner. In the fall, the falling leaves can present some driving hazards which is why we highly recommend you have your tires rotated now and perhaps again in two months before the winter driving season is here. If you have any questions about appropriate timelines for your car's tire rotation or any other automotive services or repairs then surely you have come to the right place. The certified technicians here at Auto Clinic of Franklin are just the team for you and stand ready to take care of your every automotive repair or service needs. Don't delay. It's time to get those tires rotated so schedule your appointment today!!